At Fine Linen and Bath, we constantly strive to educate clients about the many beautiful and versatile bedding options in the market. Whether you're a new buyer or a seasoned customer of upscale linens, we want you to have all the information you need to evaluate your choices and make the perfect purchase.
This is particularly important when it comes to bed toppers -- coverlets, matelassés, quilts, and duvet covers -- which go on top of sheets and blankets. Available in a variety of fabrics and styles, these pieces go a long way toward setting the style and tone of the room's decor. You may choose an airy percale duvet cover, opt for a richly textured coverlet woven on a jacquard loom, or combine different textile and style offerings for a look that's uniquely your own.
The guide below will help you understand the various types of bed toppers; determine what will work best for you, and set yourself up for a stylish night's sleep.
What is a coverlet?
A coverlet is a decorative and functional bed covering that lays on top of the bed, concealing the mattress and protecting the sheeting and blankets underneath. Coverlets are typically more tightly woven than blankets and range from simple to ornate in style. A well-chosen coverlet can enhance the sophistication of any bedding ensemble. Select one with a matte finish for a casual look; a sateen finish for a sleeker vibe; or one woven with intricate designs and raised patterns (matelassé). Coverlets are wonderfully versatile; they can be used between sheets and a duvet cover as a layer in a cozy winter bed, or alone above the flat sheet in warmer temperatures. Many coverlets are crafted from machine-washable cotton, which makes them easy to care for at home.
Pictured is the Sferra Giza 45 Quattro includes matching sham and blanket cover
What is a matelassé?
A matelassé, sometimes referred to as a bedspread or blanket cover, is a specific type of coverlet. It features stitching in intricate designs and raised patterns for a "quilted" look without the heavy weight. Matelassé fabrics are woven on a special machine known as a jacquard loom. They are a sophisticated option that, like other coverlets, are made to lay between your flat sheet and duvet cover.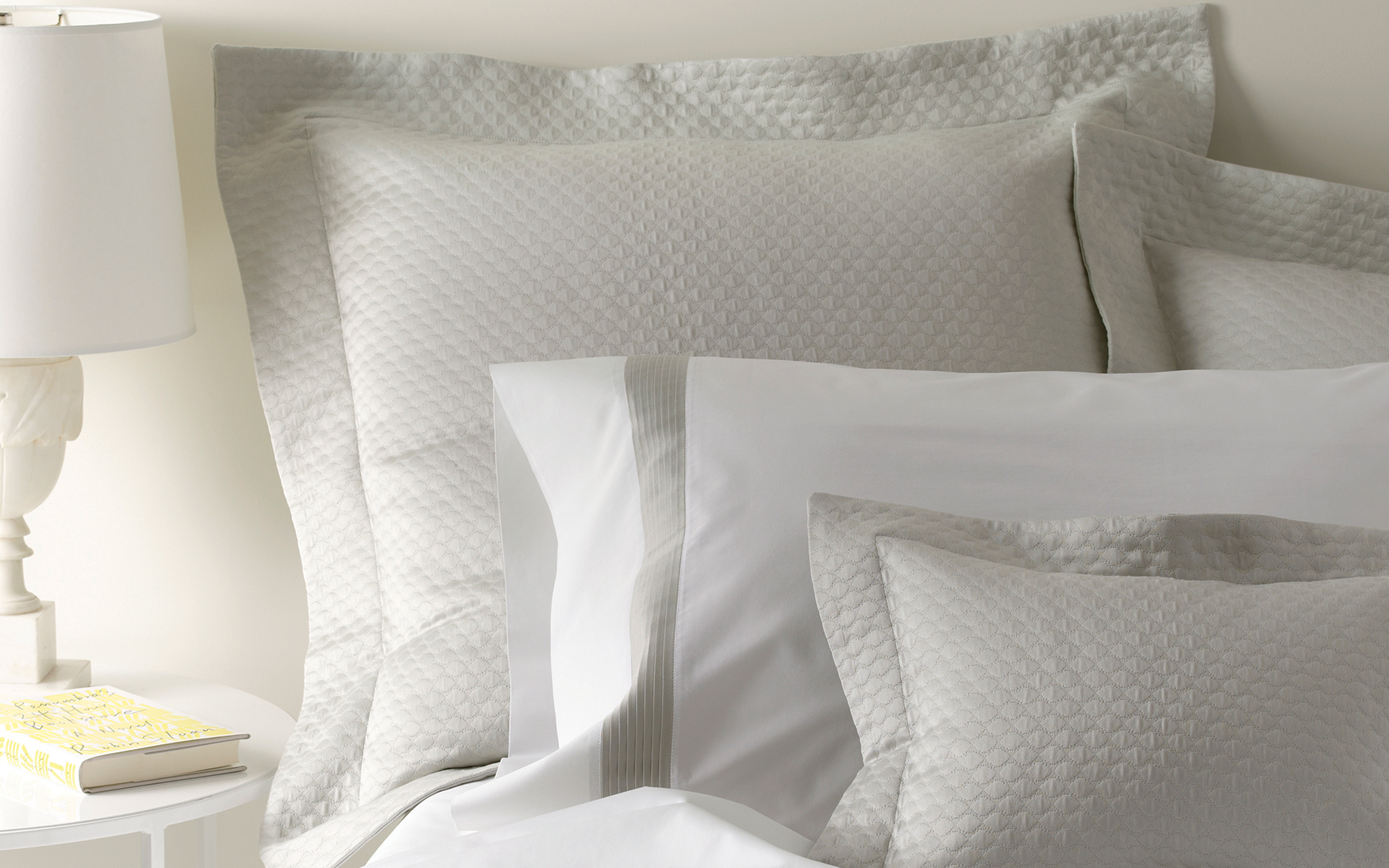 Pictured is the Matouk Pearl Bedding includes matching sham, coverlet and bed skirt
What is a quilted coverlet?
Heavier and designed for warmth and beauty, quilted coverlets are filled with insulated polyester batting sewn between two layers of fabric. These are most often sateen in finish, and woven in a variety of pleasing patterns that can suit any style. They come in a range of thicknesses and are often paired with a blanket for additional warmth. At one time, quilted coverlets were quite popular; in recent years, however, many luxury brands have reduced production of quilted coverlets to one or two styles, or even discontinued them. This is likely because quilted coverlets require dry cleaning due to the insulated filling. The exception to this trend is the Home Treasures brand, which has become the go-to source for custom quilted coverlets, with dozens of options for both weave and color.
What is a duvet cover?
A duvet cover is a decorative protective cover that goes on your duvet insert (note: duvet inserts/stuffers are quilted bed coverings filled with feathers, wool, or synthetic alternatives. They are sometimes referred to as "comforters") Soft and inviting, a duvet cover is a must for the quintessential "fluffy" bed. They come in a variety of materials and designs, and are often made from machine washable cotton fabric. To maintain a consistent design ethos, we recommend matching the duvet cover to your chosen sheet collection. For instance, if the sheets feature a touch of color and embroidered line finish, the duvet cover will follow suit, normally a framed design on the top of the bed. If the sheets are a bold color, the duvet cover will mirror that as well. Many sheet collections include a coordinating duvet cover.
Finishing the Look: Bed Skirts, Shams, Pillows and Throws
Once you've settled on your bed topper, it's time to finish your bedroom's look with accessories such as a bed skirt, shams, pillows, and throws:
Bed skirts, also known as dust ruffles, cover the sides of your box spring and space under the bed while adding an essential style component. Choose a gathered bed skirt for the traditional look of appealing folds, or opt for the tailored aesthetic and straight lines of a box pleated skirt. If you prefer a more contemporary look, consider wrapping your exposed box spring with a cover made to coordinate with your bedding ensemble. Our design team is happy to discuss options that will work best with your bed frame.
Shams and decorative pillows are added over the standard sleeping pillows. Shams should match a coverlet or quilt if one is used; if not, match to the duvet cover. Lastly, decorative pillows can add a touch of pizzazz and personality to the bed. Pull ideas from the surrounding decor and for recommendations, feel free to email us a photo of your space and we'll be happy to send you some ideas!
Throw blankets add color and style as well as provide a sense of comfort and warmth to the bedroom. In choosing a throw, draw your inspiration from the room's décor: fabric, artwork, curtains, or paint colors. You can even pick up color from the décor in an adjoining master bath; this is a creative way to connect the two spaces.
Caring for fine bed linens
Luxury bed linens are an investment made to last a long time with proper care. Always follow manufacturer care guidelines, and never attempt to machine wash an item that should be dry cleaned. You will find that many coverlets and duvet covers are machine washable. A cotton coverlet without can usually be laundered by itself in cold or warm water on the gentle cycle. Use a mild detergent without added bleach, whiteners or softeners. Do not use a liquid fabric softener, as these can damage the cotton fibers. Tumble dry on low heat. Remove promptly to prevent wrinkling. Remember that natural fibers will shrink to some extent.
It's also important to select the right laundry soap for your bed linens. Harsh detergents can weaken fabric thread fibers, causing them to look dull. Instead, use for a detergent specially made for fine linens. Heritage Park Fine Fabric Wash is formulated with a neutral pH to remove stains; gently clean and preserve delicate thread fibers, and keep your linens looking and feeling beautiful. Always follow manufacturer care guidelines.