Abyss Habidecor Custom Options - Bath Rugs, Monogramming, Towels, Robes
Abyss Habidecor Custom Options - Bath Rugs, Monogramming, Towels, Robes

From personalized monogramming to custom size rugs, Abyss Habidecor truly has something for everyone. Explore their custom options and always feel free to contact us if you are looking for something specific and we will happily walk you through all the available ways to make your items just what you are looking for.

Habidecor Custom Size Rug Pricing - Instant Quote Calculators



Use the below calculators for an instant price estimate for a custom sized rug! Simply choose the style you'd like and use the Width and Length sliders to choose the size you are looking for. Please note that these estimates are for rectangular/square rugs only. For special shape rugs, contact our customer service team for shape options and pricing information.
Custom Rugs typically take 2-3 weeks to arrive from Portugal for shipping.
*Rugs can be custom sized up to 57" x 78" rectangle/square or up to 57" round
*Non-Slip backing can be applied to these rug styles for no additional charge: A La Carte, Must, Shag, and Larry. Elysee and Karat Rugs automatically come with non-slip backing by default.
For questions or to place an order for your custom size rug, contact our customer service team
at 866-352-4522 to process your order.
*All custom sized rugs have a size variance of +/- 5% as stated by Abyss & Habidecor. Should an "exact" size be requested, this cannot be guaranteed. All products from Abyss & Habidecor are custom made to order and are not returnable.
Abyss Habidecor Custom Size Luxury Bath Rugs
Abyss Habidecor Custom Sized A La Carte Bath Rugs Pricing Tool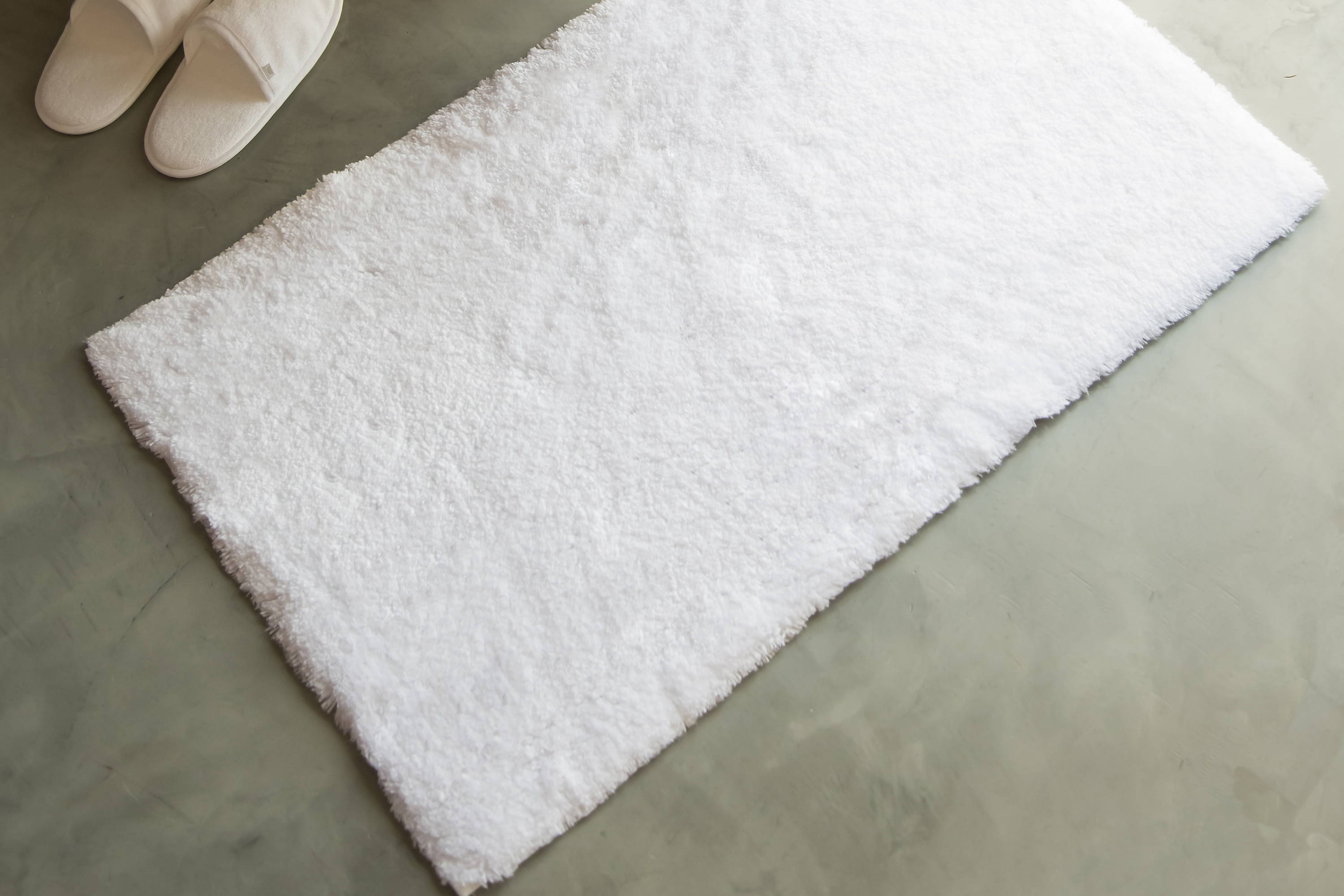 ---
---
---
---
---
---
---
---
---
---
Terry, High Pile, Reversible... What's the difference?
When choosing your custom sized bath rug, knowing the difference in pile and material makes a big difference in function and style.
When talking about a bath or tub Mat, this is typically a terry material, similar to a very thick towel. When is comes to the Abyss Habidecor Double Bath Mat, the clue is in the name - Double. This hefty mat is double the weight and thickness of their most popular Super Pile towels. Like it's towel counterpart, the Double Mat is very thirsty and a great option for placing outside the tub to catch water. It's lighter than the woven Habidecor rugs and therefore easily laundered right along with a load of bath towels; some people even will lay this on top of their fashion rugs to allow less frequent washing of heavy rugs.
The Must Bath Rug is a 1" high pile woven rug that's extra plush and a wonderful 'shag' feel. Along with a few other Habidecor rugs, like Shag, Elysee, and New Twist, this rug is extra heavy weight and amazingly soft. Like all Habidecor rugs, these are machine washable and dry-able, but this should be laundered alone to avoid overloading your machine. These rugs also all come with the option of a light non-slip silicone backing spray from the factory that helps them to not slip around on the floor, a great option for added safety!
The Reversible rug, again - it's all in the name, gives you the best of both worlds with one side featuring a plush feel with twist pattern inset frame and the opposite on the reverse. This rug, along with the Bay rug, that is the same style but without the frame, and Origine, that features a contrasting edge border, are great options to give a quick change-up to your space.
The Habidecor A la Carte rugs are a 1/2" pile solid plush rugs that can come in just about any size or shape. Great for those looking for a nice companion to a Habidecor fashion rug, this is the same pile height and will look great in a coordination color. Also available with the non-slip backing, these rugs are perfect for any space, not just the bathroom!

---
Will a simple rectangle rug just not be enough for your style? Want something truly unique?
Habidecor offers a wide range of custom options for every space. Let us know what you are looking for and we will be happy to walk you through the the process and assist you in ordering the perfect rug!
Here are some of the shape options:
---
Custom Colored Towels & Rugs
Available for these Collections: Super Pile & Twill Towels, the Must & Reversible Bath Rugs, as well as Super Pile Robes.
Even though Abyss & Habidecor have an expansive palette of 60 beautiful colors, you may have a specific color in mind that you can't seem to find. Have Abyss & Habidecor's most popular collections custom colored to match your bathroom tile, bed linens, wall decor, anything! Contact us for minimum ordering quantities and we will walk you through the process of identifying your perfect custom color.
---
All of the monogrammed products are custom and made-to-order in Portugal, usually having a 2-3 week lead time. When exploring the monogram options, it is important to note that the threads used for the monogramming are poly/acrylic and are much shinier and not an exact match to the Abyss custom cotton towel colors. Therefore, please contact us for personalized assistance when ordering custom monogrammed Abyss towels and robes. We will be happy to assist you with selecting thread colors and style options to best suit your item.    
Due to these items being custom and personalized, all monogrammed orders are not returnable.

Click to View Monogram Font Styles
---
Questions!
Call us

866-352-4522
OR
Send us a message
Please provide us with a detailed response with more information about what you are interested in.

Thanks for contacting us! One of our Design Consultants will respond shortly!
This field is required
This field is required
This field is required